Bringing Peace of Mind to Telecom Chaos
Information is power, the critical ingredient to clarity and control. 
Our Process: Saving Time, Money & Headache
Our team of experts evaluates your enterprise communications environment and delivers plain-English visibility into every service and dollar associated. From here we'll implement life cycle inventory and expense management solutions to deliver long-term controls that increase productivity, lower costs and reduce risk.  
If your company has pivoted to the "new normal" of reduced facilities, immediate efforts to capitalize costs, and accelerated digital transformation, you are not alone. The spotlight on spend is brighter than ever and our solution is designed to showcase your capacity to prove out accurate TCO and leverage existing services for digital transformation. We guarantee your ability to understand exactly what you have, where it is and what it should cost.
In 2019, telecom companies were 32% slower than other industries to respond to their enterprise customers' needs. Can you imagine how much slower they are in 2020? Our solution transforms decreasingly stagnant and confusing telecom practices into lightweight & adaptable business capabilities.
Learn about our people, software and story.
Inventory Build
We transform loads of complex data into meaningful, plain-English technology inventory, powering your team with 1-click visibility into every detail and dollar.

Audit
Our proven audit methodology will eliminate unused services, and clearly identify the use and cost allocation for accurate lifecycle management.

Contract Optimization
We leverage current market cost benchmarks alongside your buying power to achieve the lowest cost possible on each inventory item.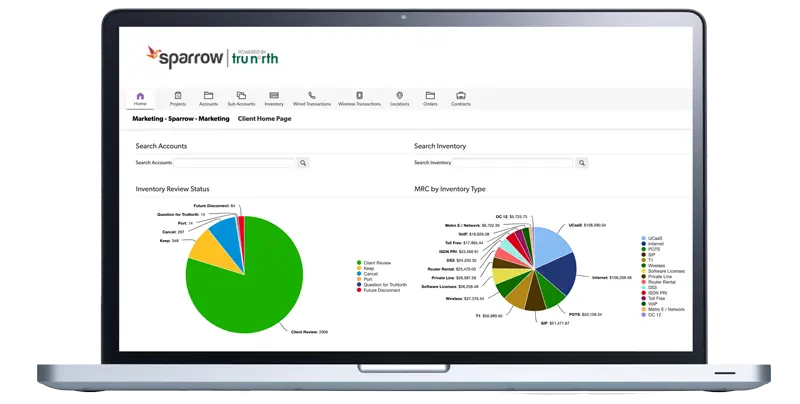 Our powerful program delivers more than reports. Our team has your back with ongoing governance, analytics, procurement, vendor management, and more.

Telecom Bill Payment
We ensure accurate invoice charges and payment applications. Bye-bye mysteries and late fees!

Consulting Solution
We own it, ensuring all of your projects make it over the finish line with flying colors.
SPARROW: Our Software Solution
Sparrow was designed with the user in mind. Purpose-built for Telecom Expense Management and workflows with ease.  We believe you deserve 1-click visibility into the details and dollars behind your telecom and network environment, and we trust you'll agree Sparrow delivers.